How to walk to U-MA guest house
You can see how to walk from NISHI SHINJUKU 5 CHOME station (subwayname is

TOEI OOEDO line

station Number is

E29

)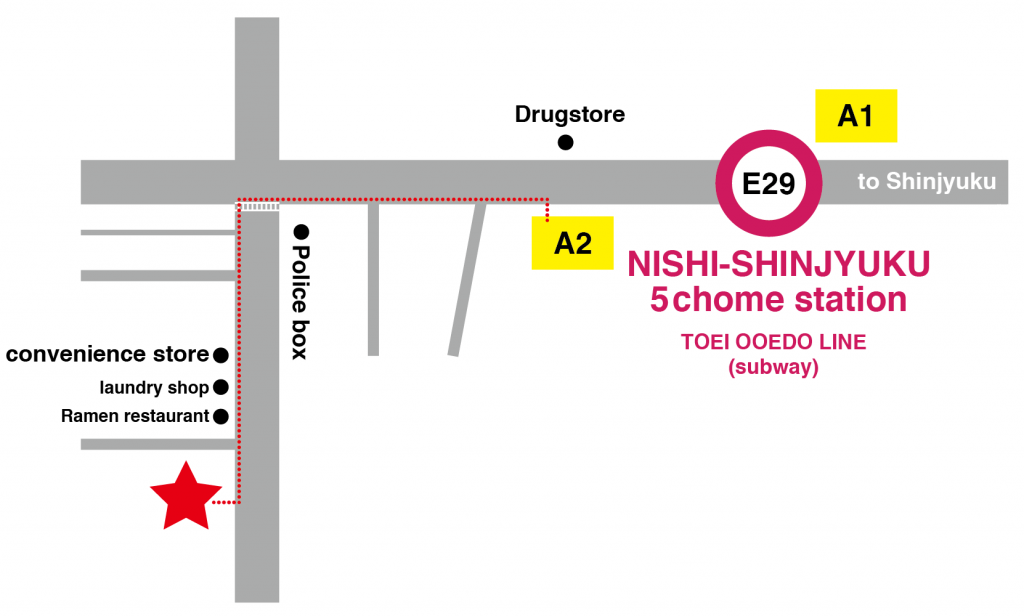 NISHI SHINJYUKU 5 CHOME station is 2 stop from Shinjyuku station by TOEI OOEDO line around 5 min and You can walk from the station to apt, just 3-5min.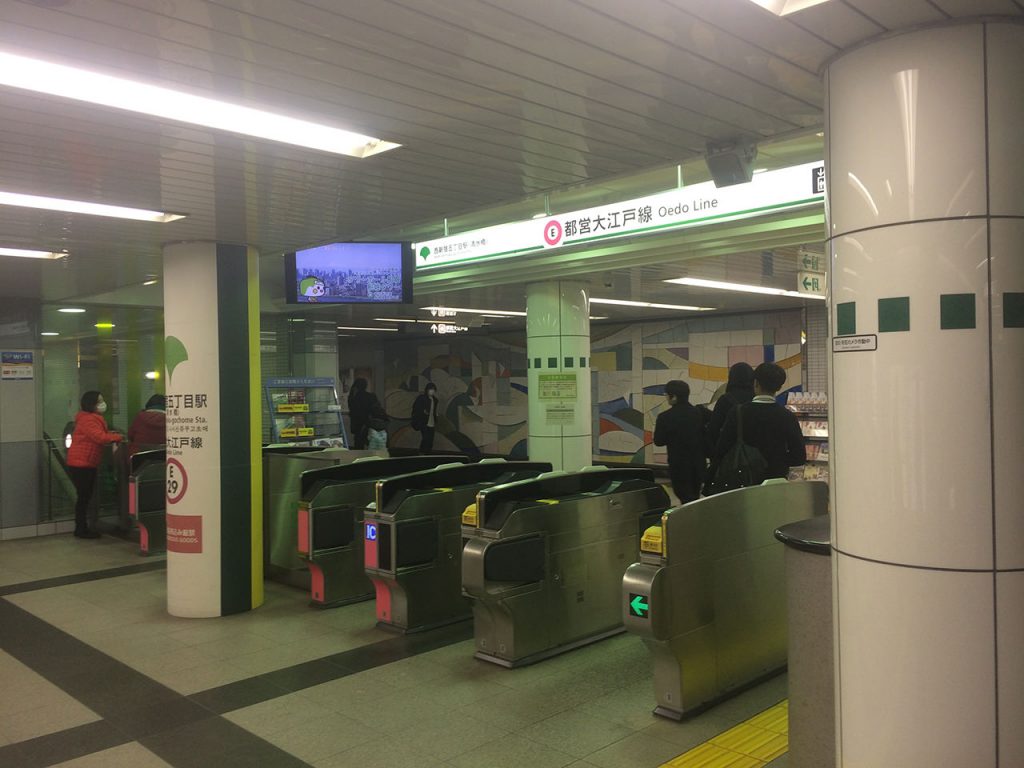 this is ticket gate. Nishi Shinjyuku 5 Chome station (OOEDO LINE) has only one ticket gate.
---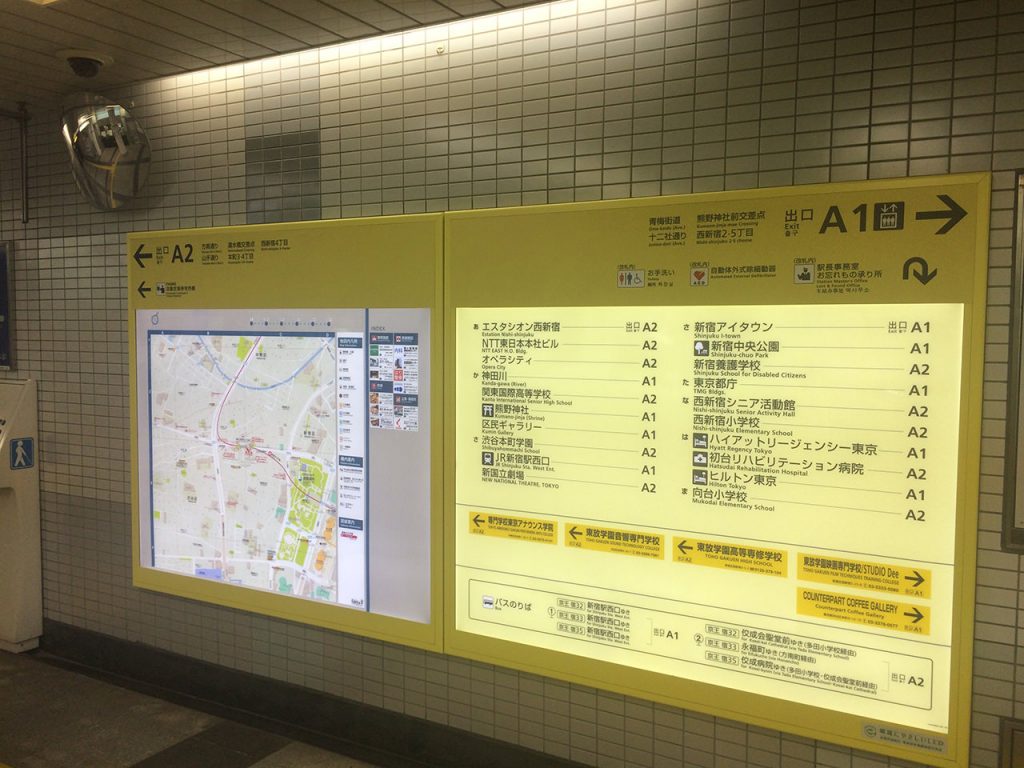 After pass ticket gate, You can find yellow sign.
---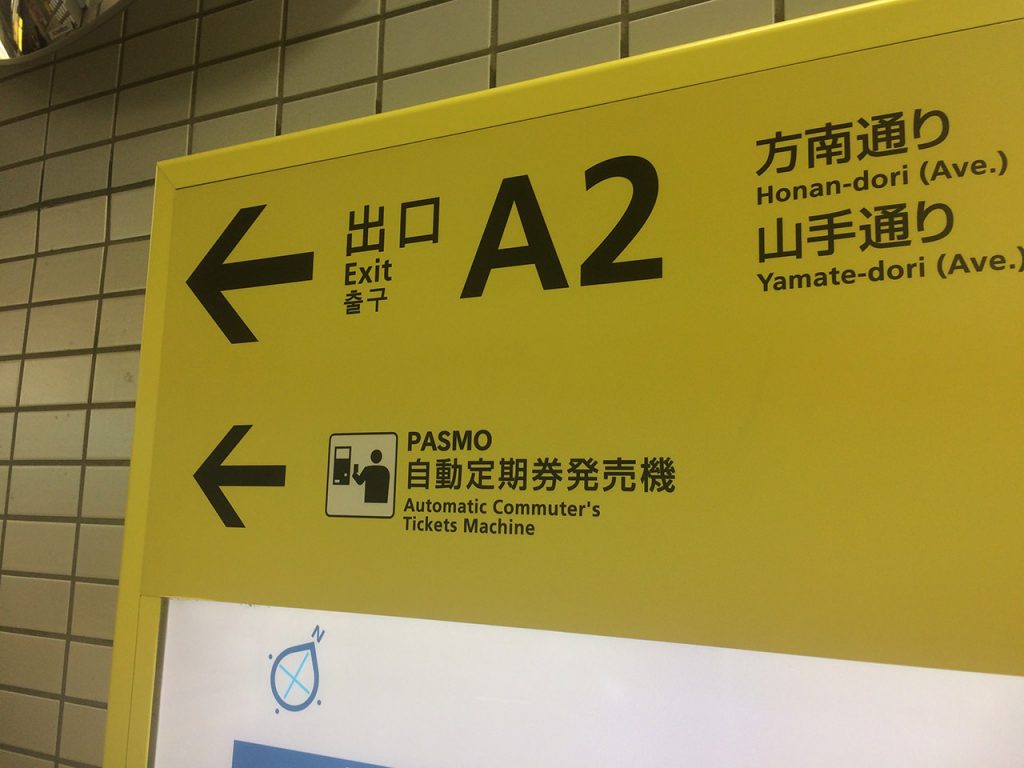 A2 is your exit
---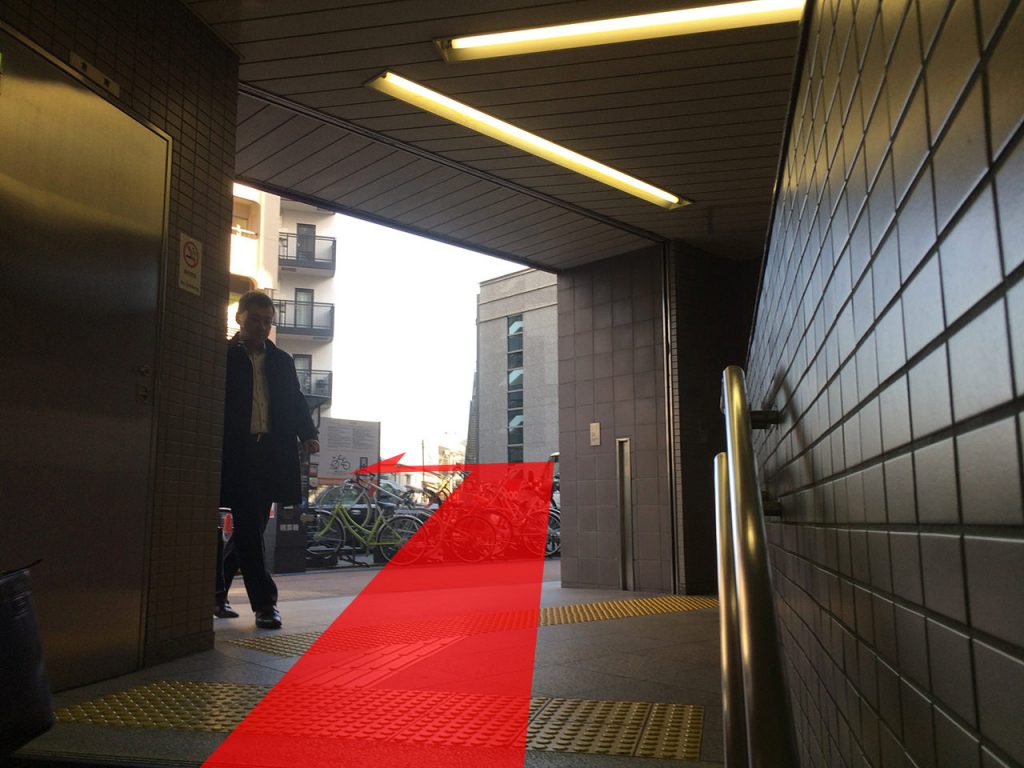 after up the stairs. and go left way.
---
Just follow the street.You can see buildings like this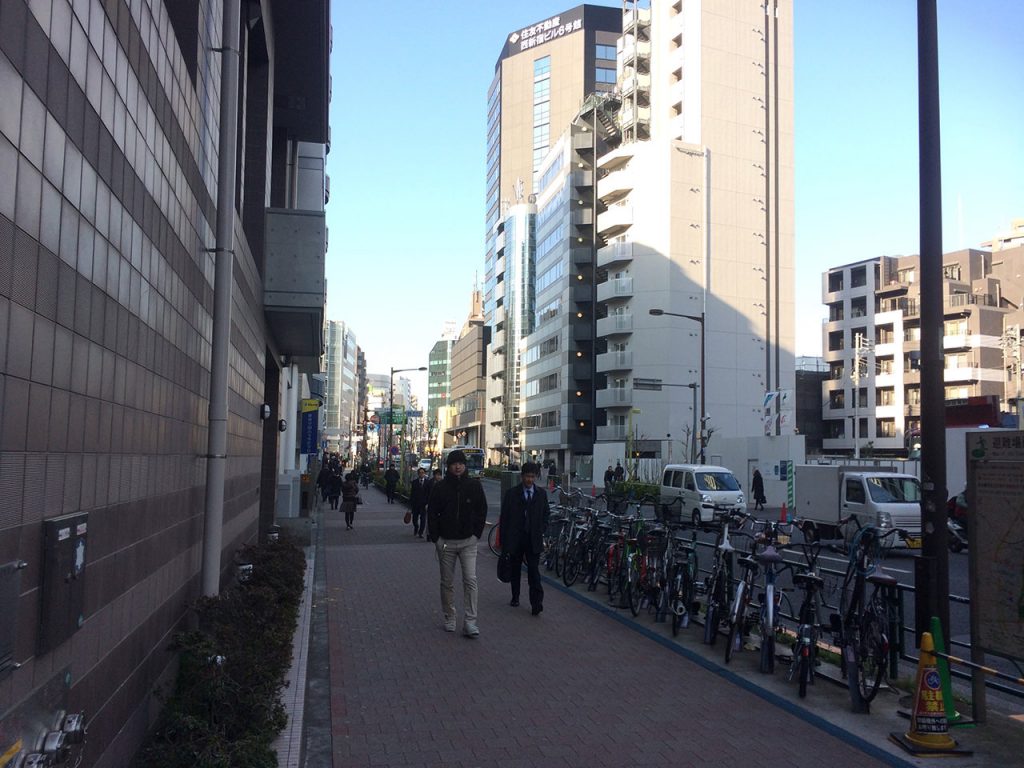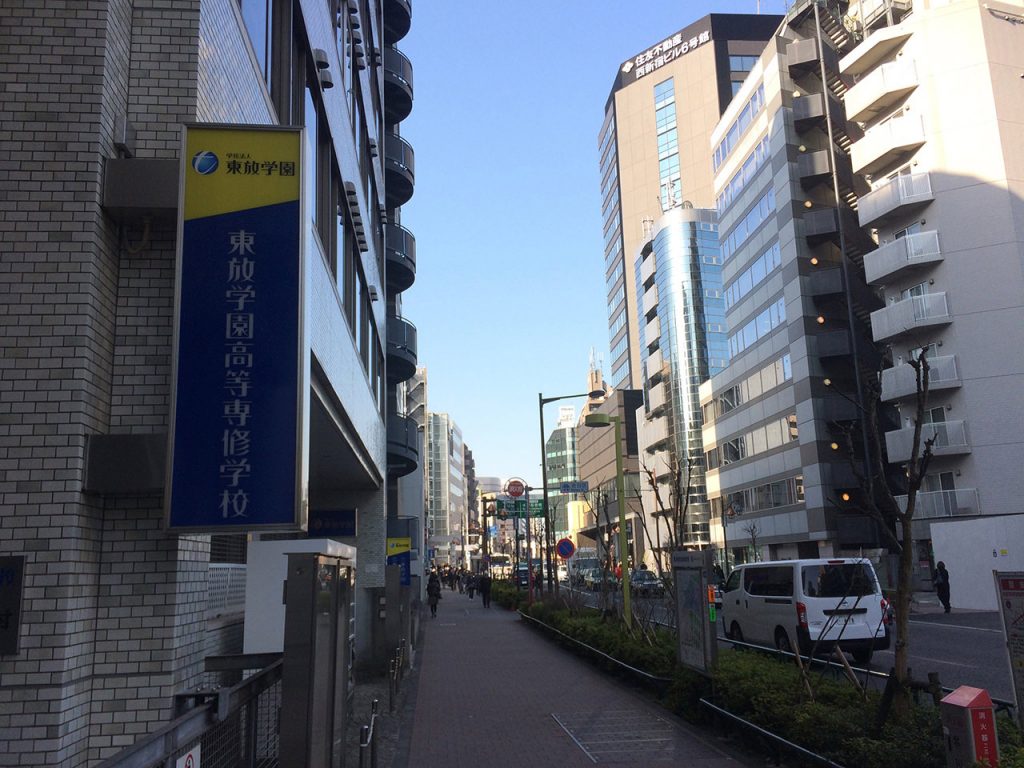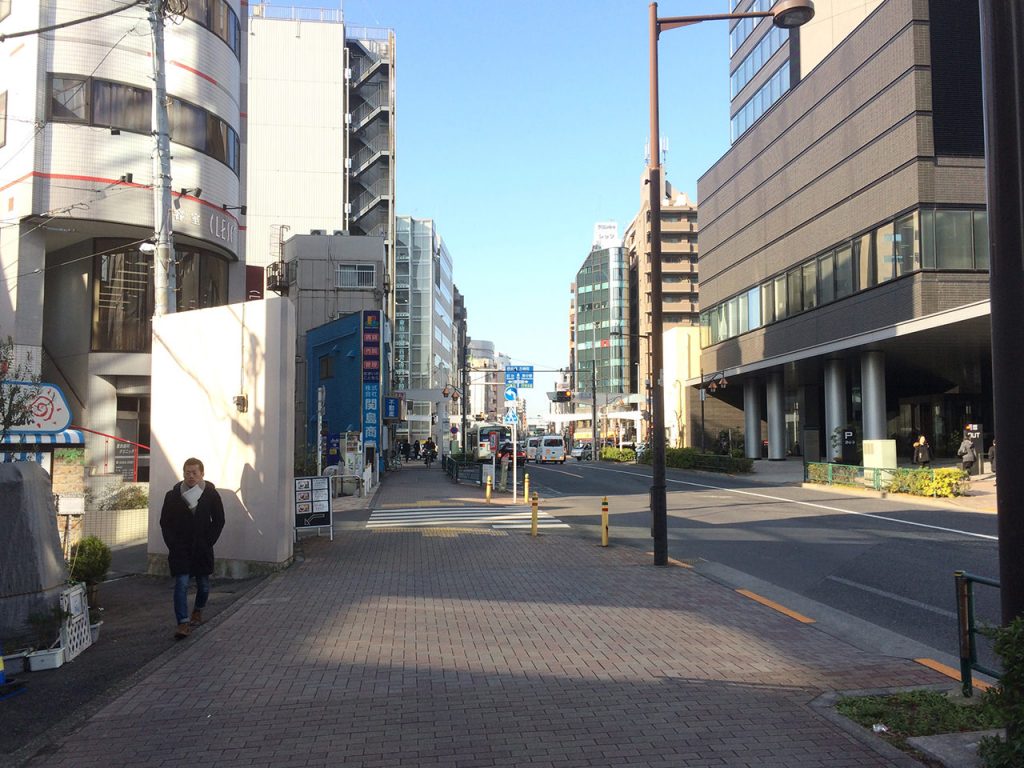 You can reach around here 1~2 min from station. Can you see the signal ?
---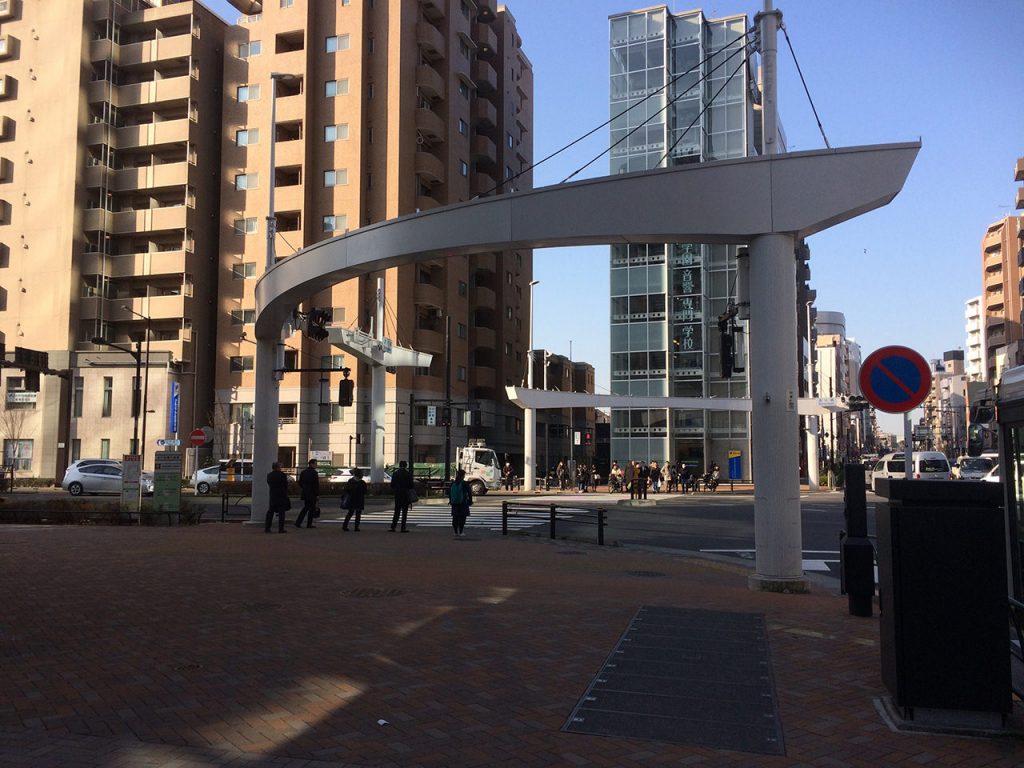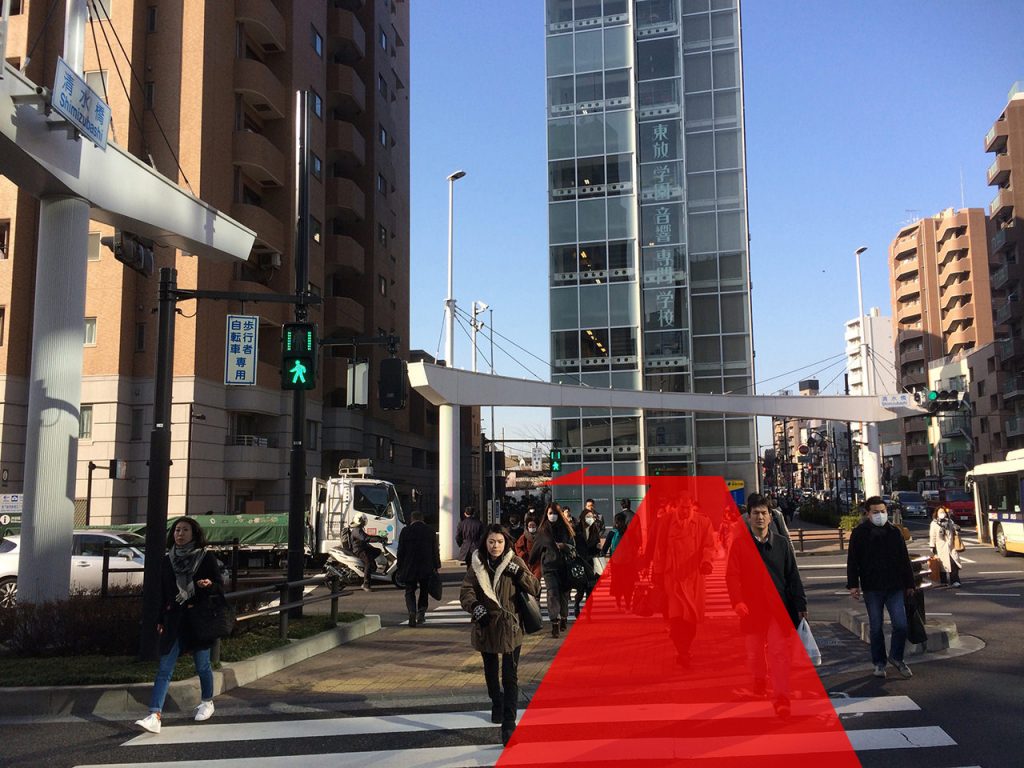 walk pass the signal. After pass the crossload, turn to Left.
---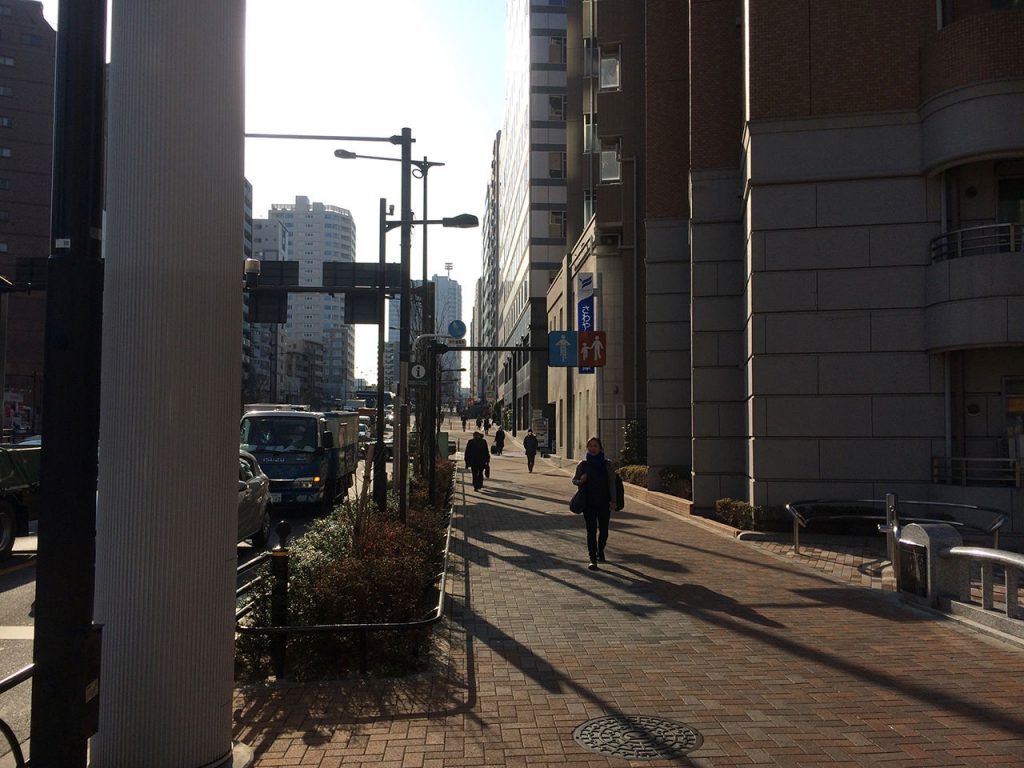 after turn Left, Just follow the street.
---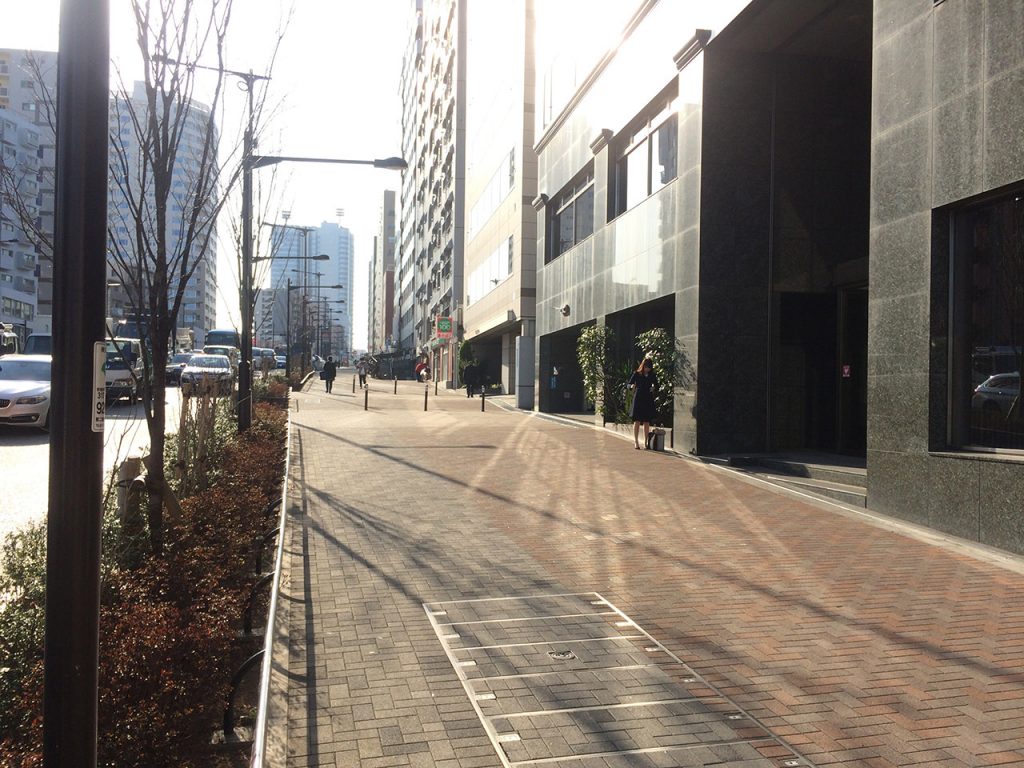 continue,,,,continue…
---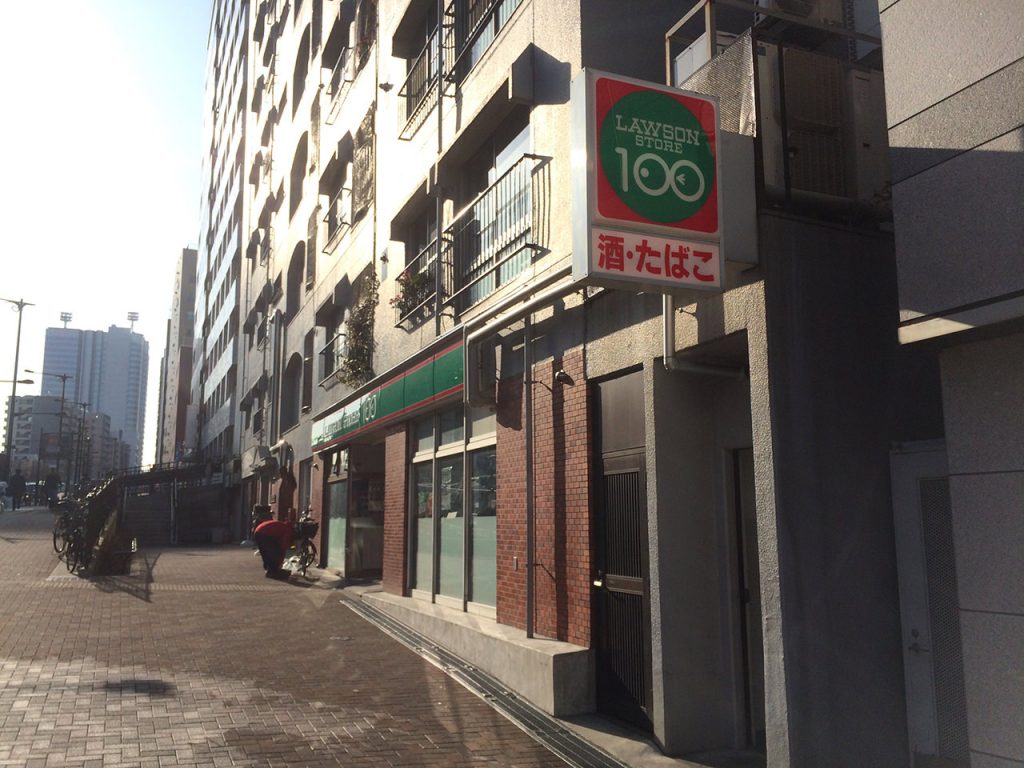 You can find convenience store 24h open. You can buy anything you wan at here. Here is the nearest store.Here is 10 sec from ¥100 shop. This Building is the building !! You made it !!
---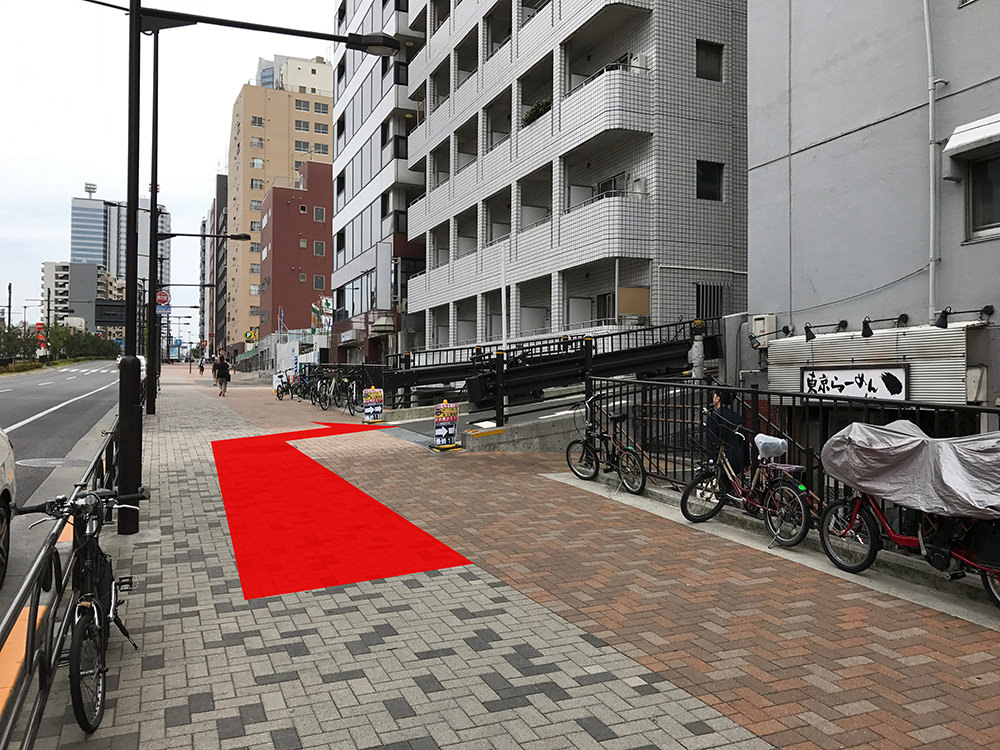 You can see RAMEN restaurant nest of 100YEN convenience store. Turn to right.
---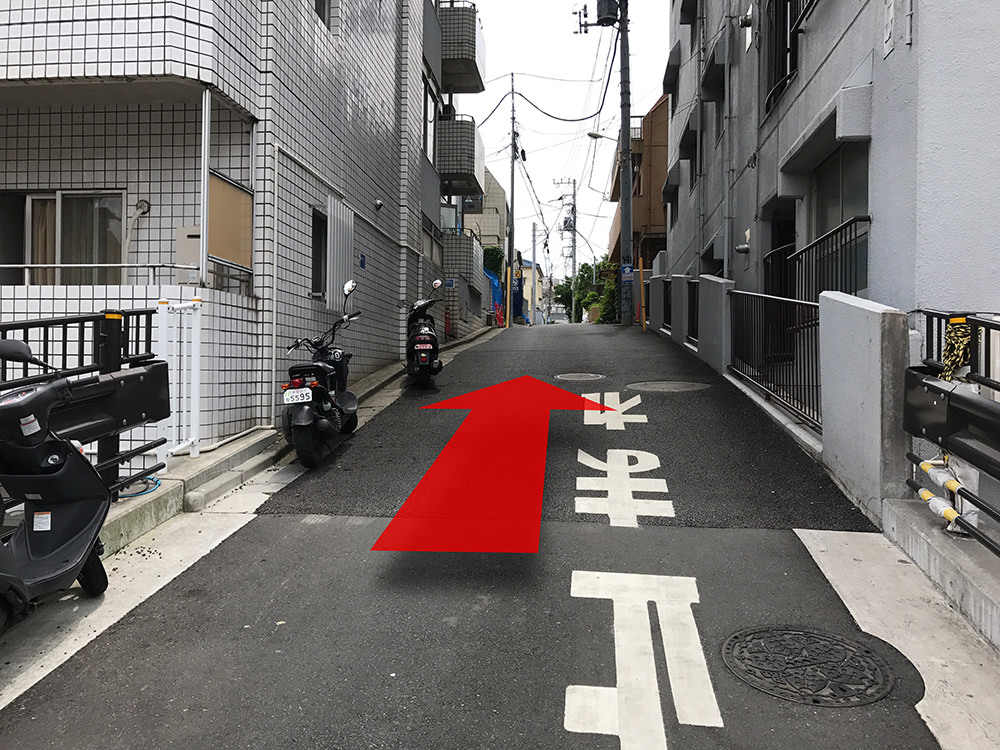 up this load. kind of hard up hill.
---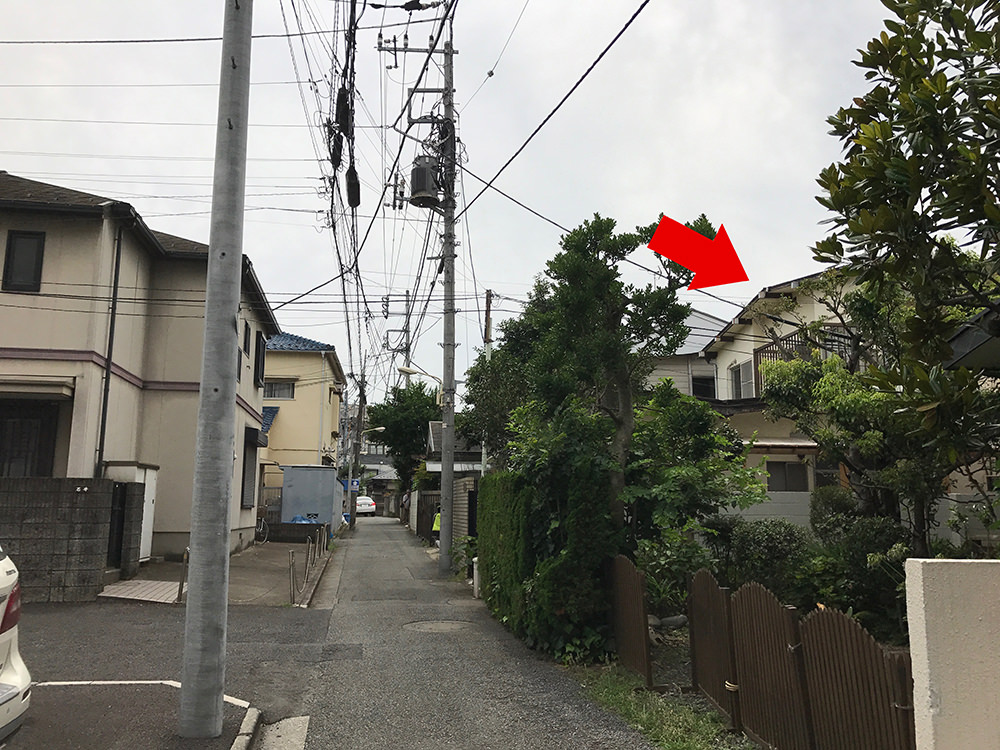 You can see our guest house after 10 sec.
---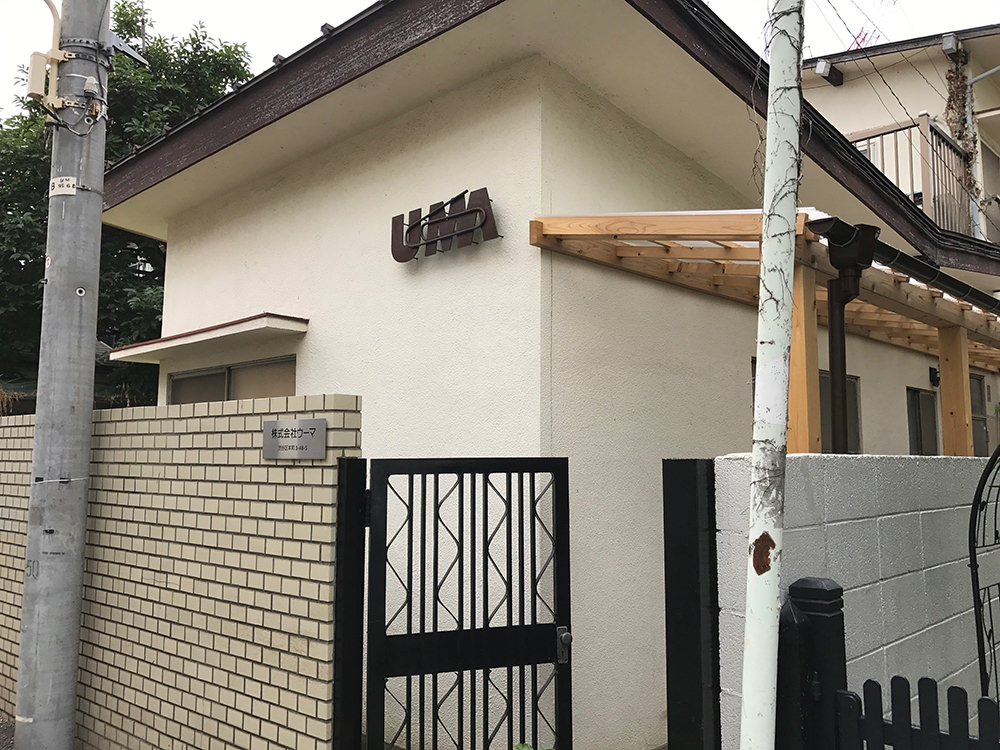 Here is "U-MA" !! Open black gate. Unlock.
---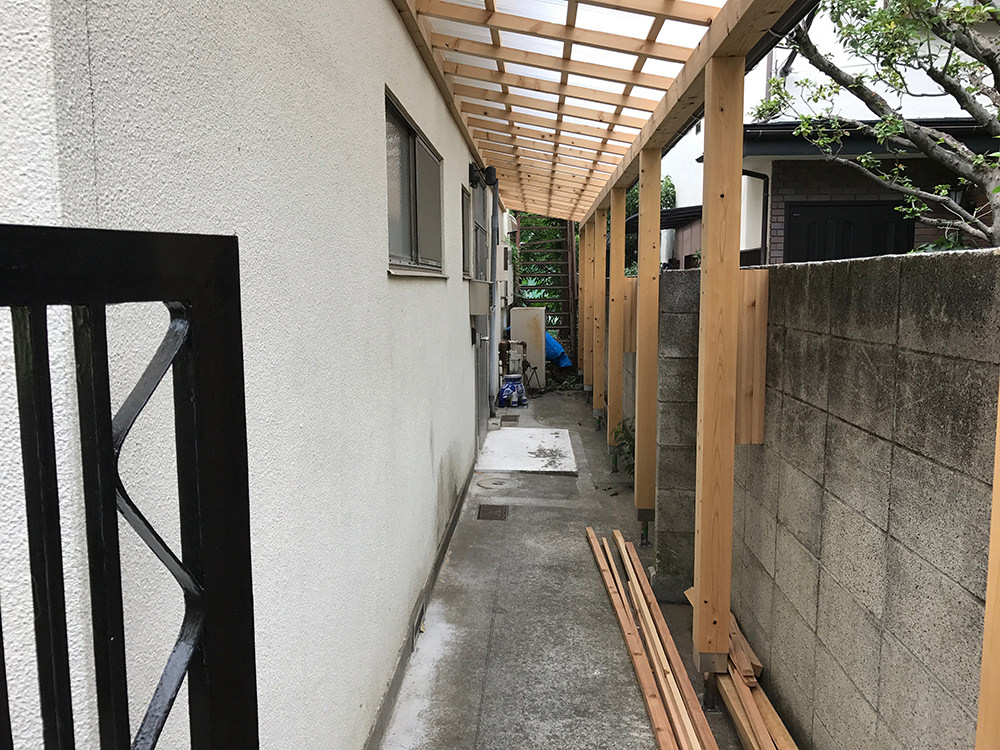 Don' be shy and come inside.
---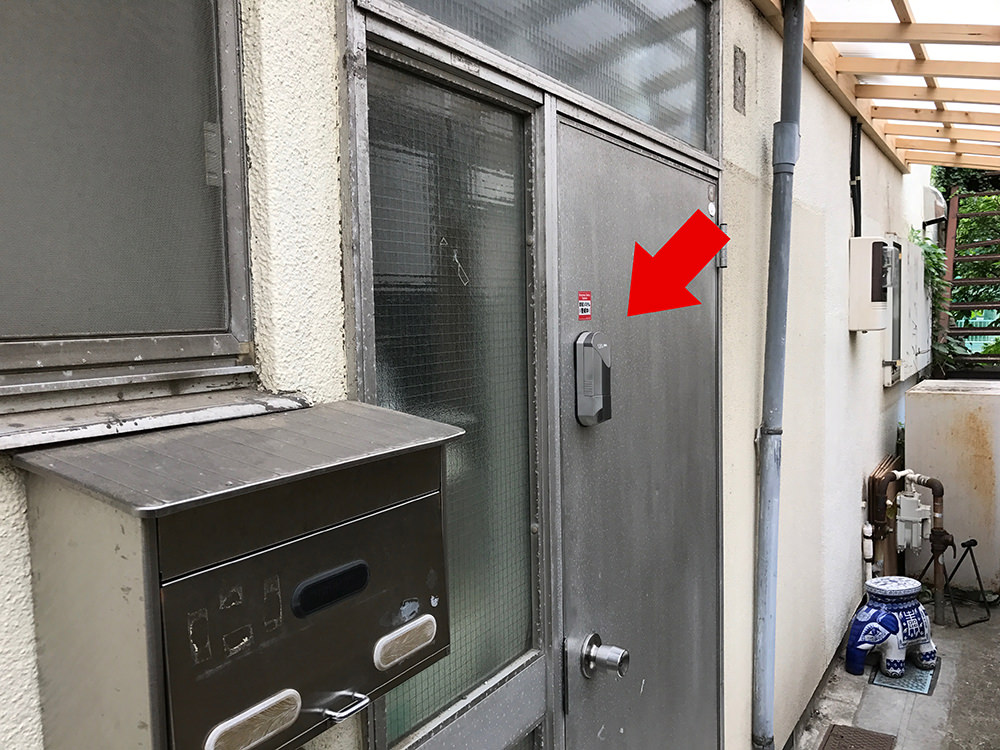 Description about AUTO LOCK.
This key is open formerly. But sometimes it is closing. I will tell you how to unlock the automatic door lock.
---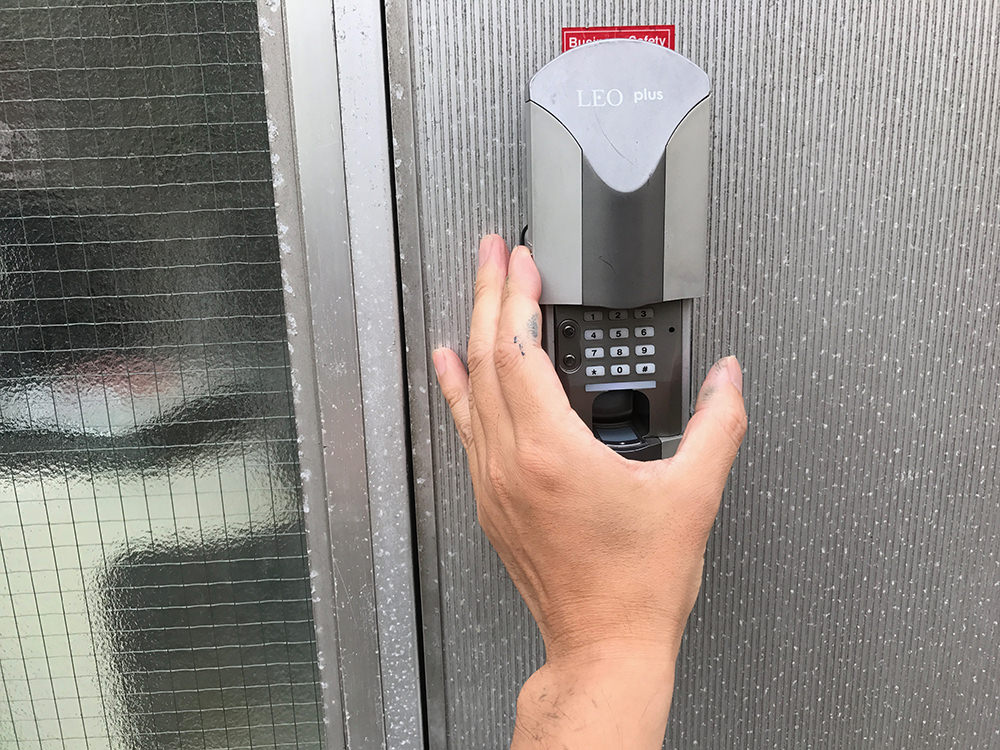 Slide Up cover first.
---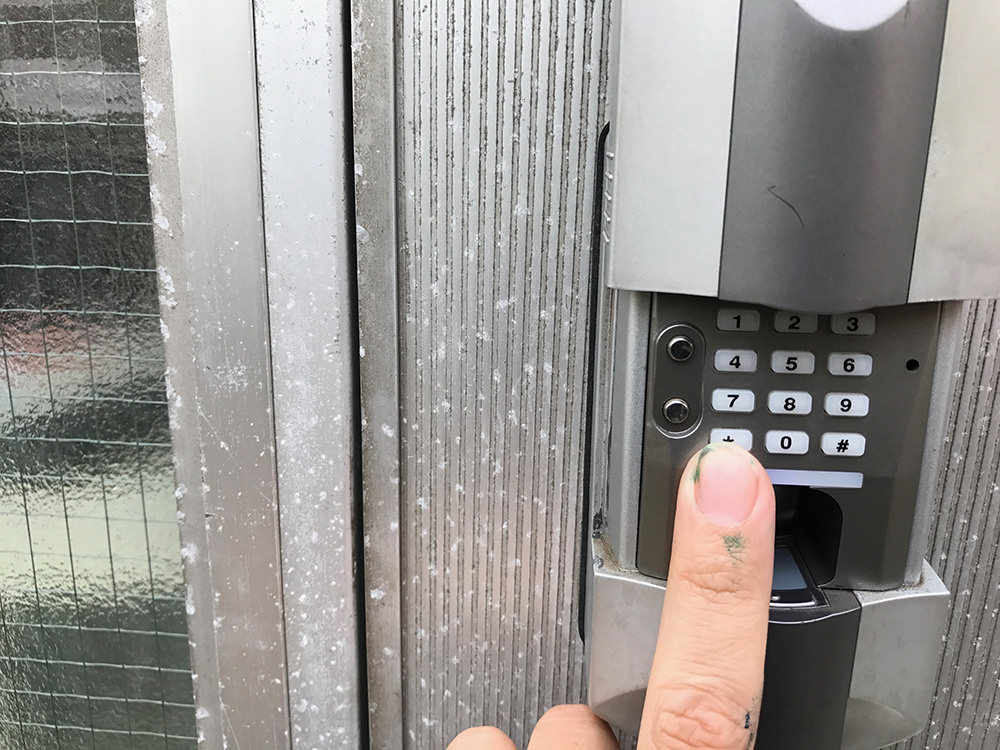 Push "*" once. Voice message will start. "Password wo nyuuryoku shitekudasai" means "Please enter the passwords" Please finish voice message. otherwise it's not working.
---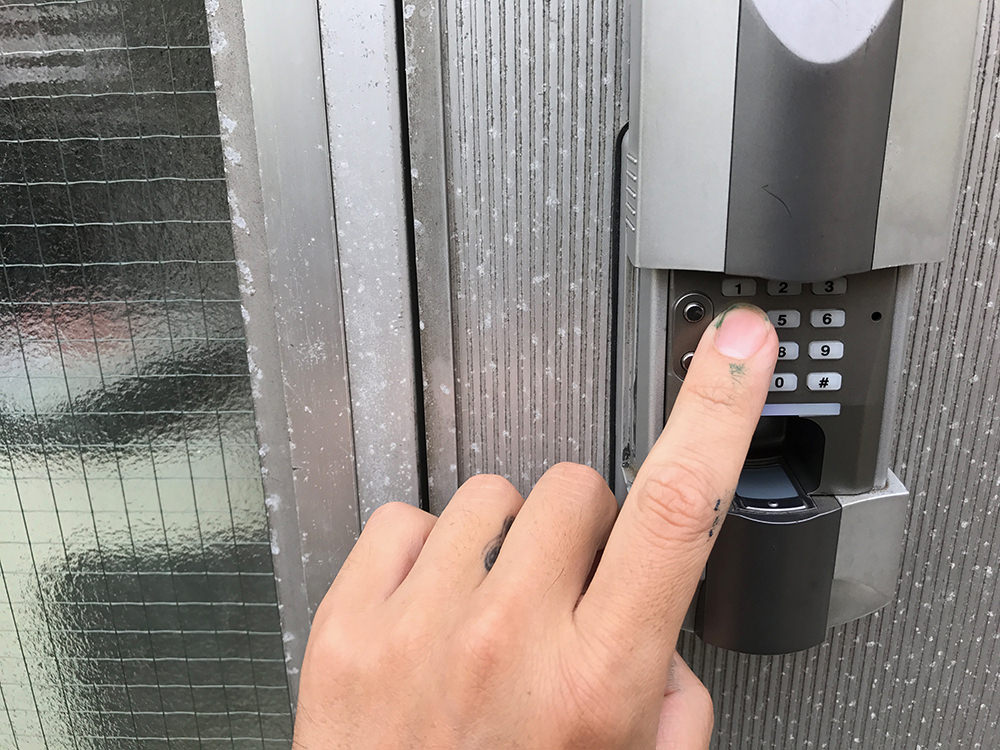 Enter Pass words. i will tell you in AirBnB message. you need 8 number.
---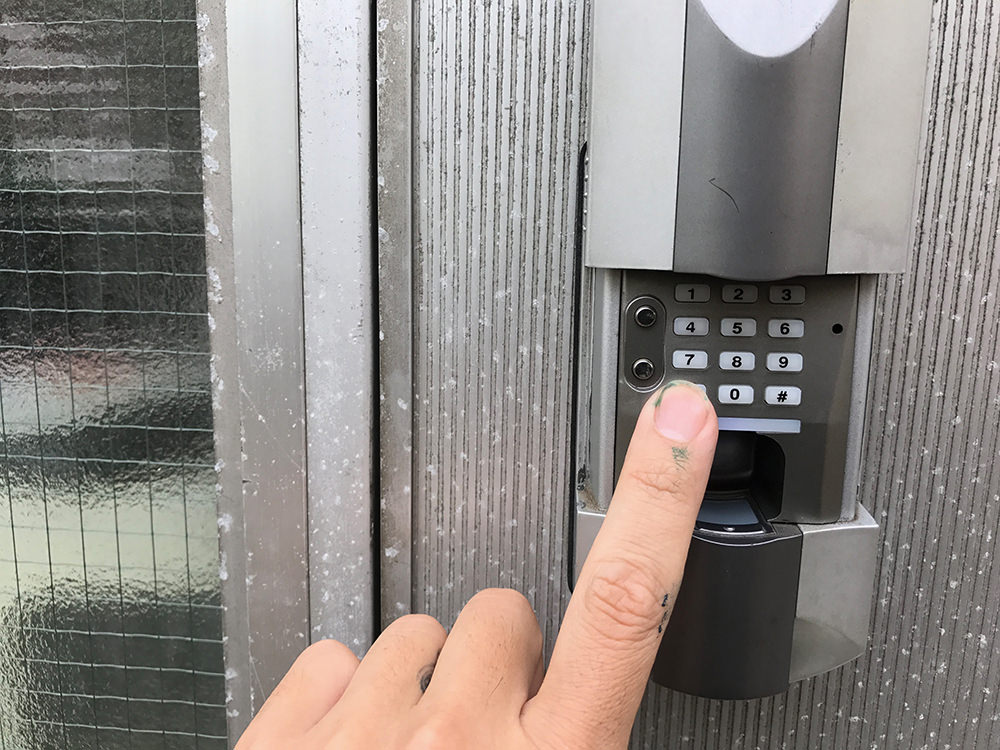 Hit "*" again after you pushed 8 numbers. And It will open.
---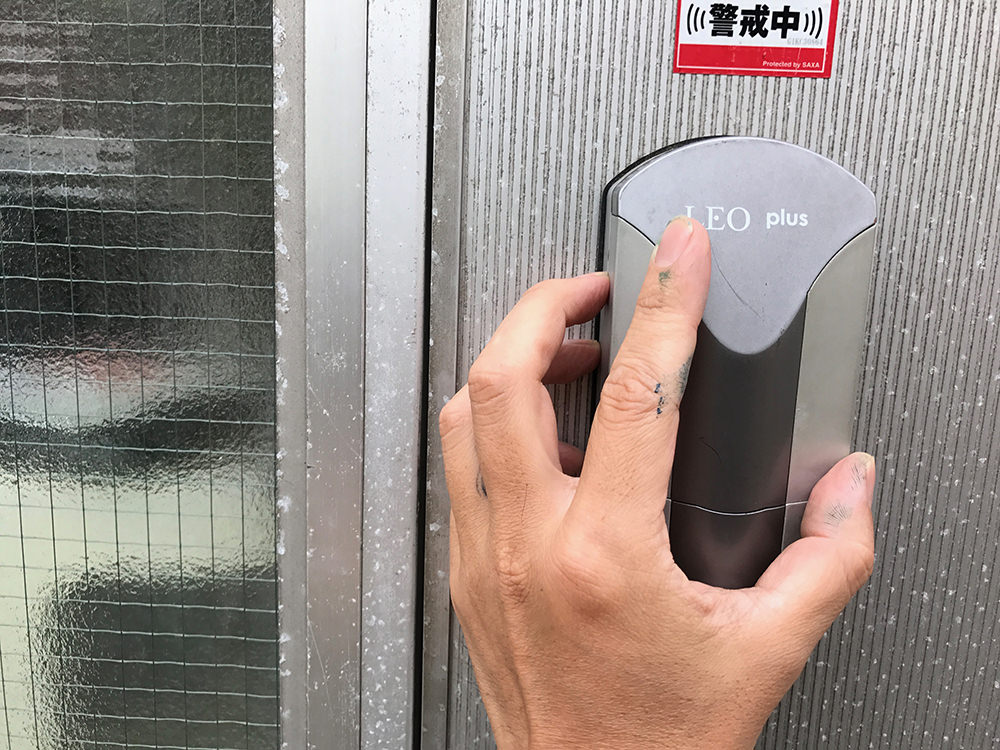 Don't forget cover down.
---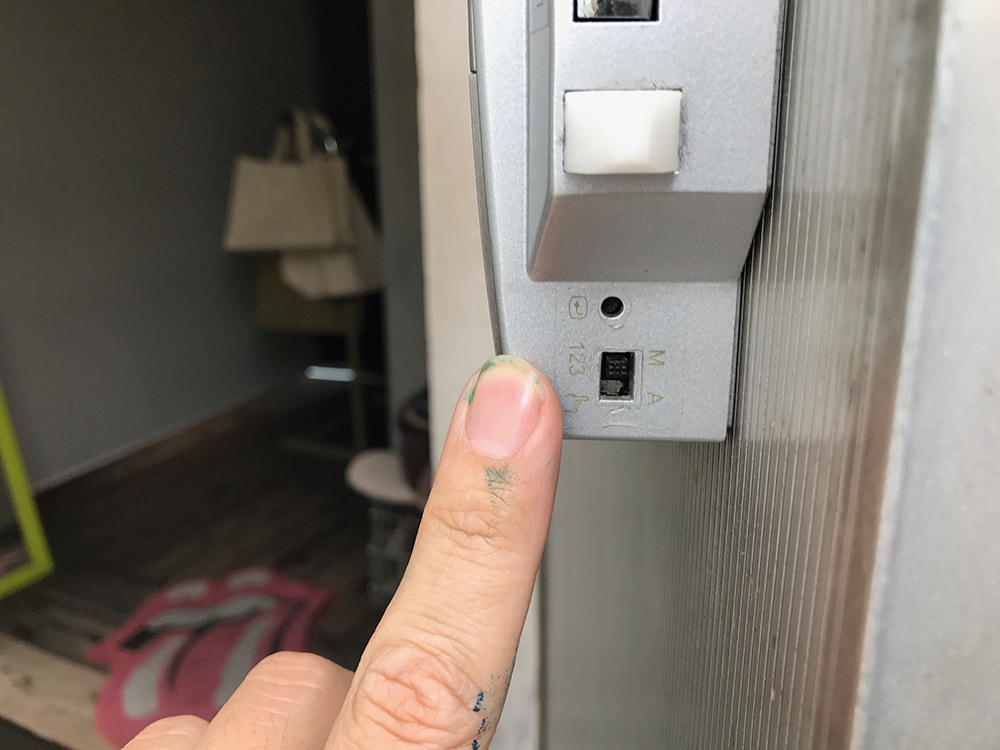 You can see "M" and "A".
"M" means "Manual". Auto lock not working.
"A" is "Auto", Auto lock working. You can switch.
---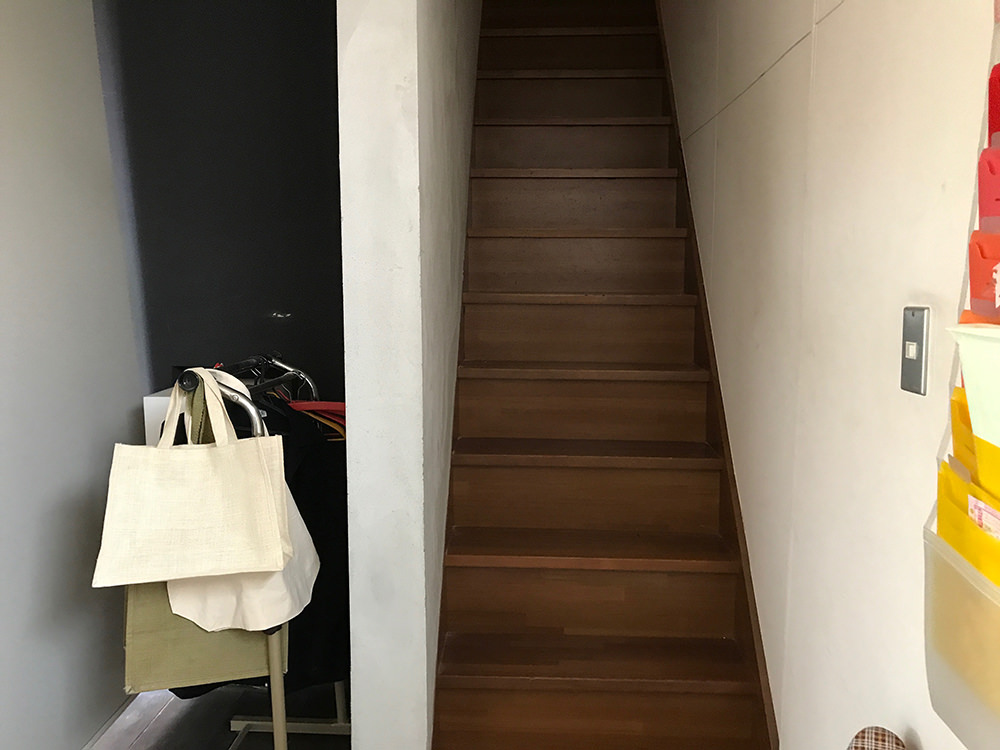 Get inside and up. Sorry for we don't have Lift elevator.
---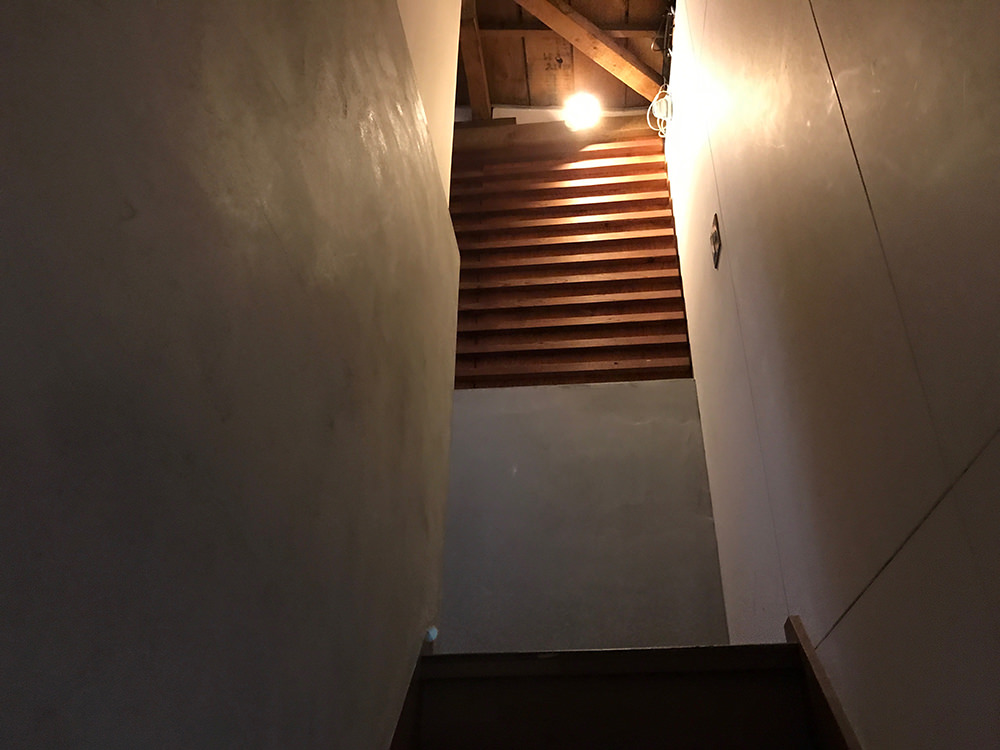 Up more! almost.
---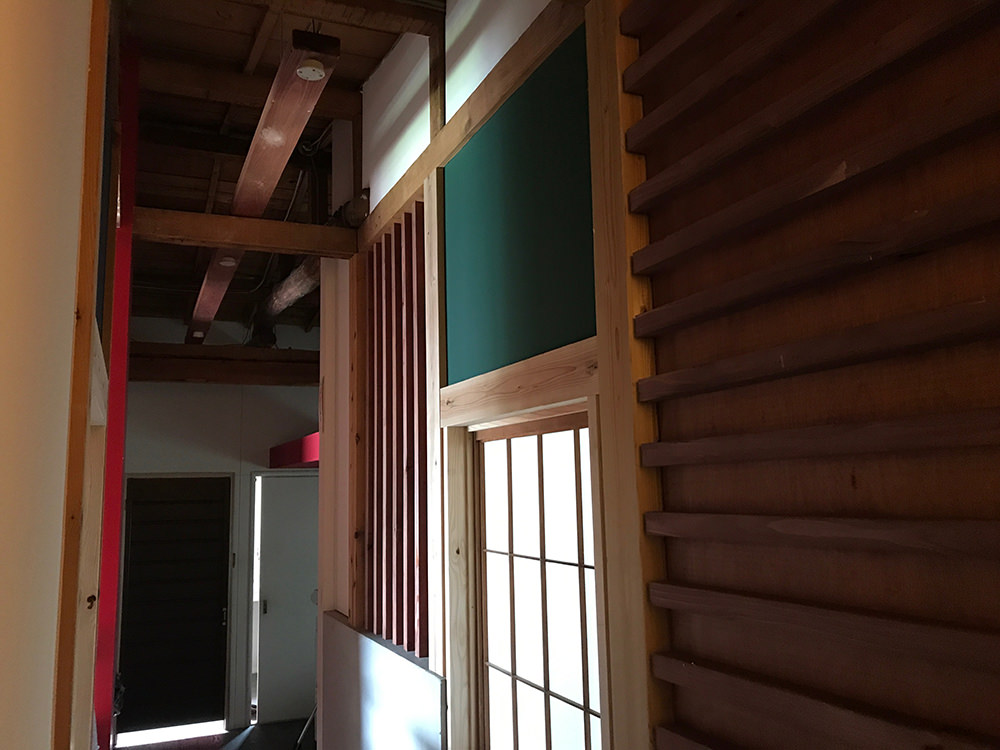 This is door of "GREEN ROOM"
---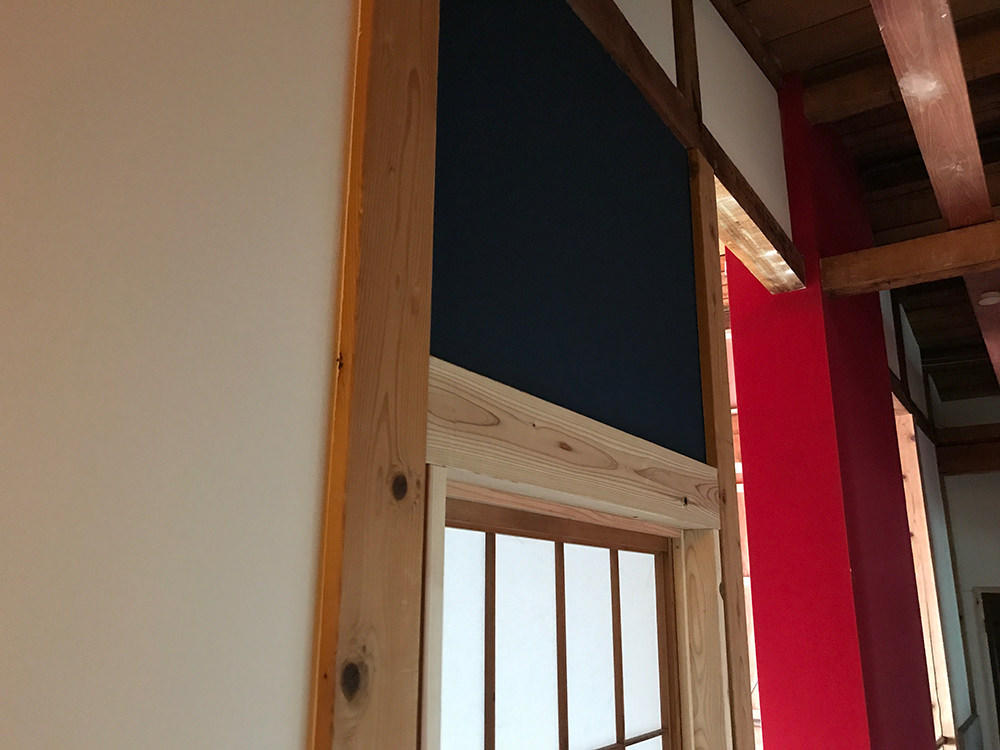 This is door of "Blue room" This pic not seems like blue,,,, but this is blue
---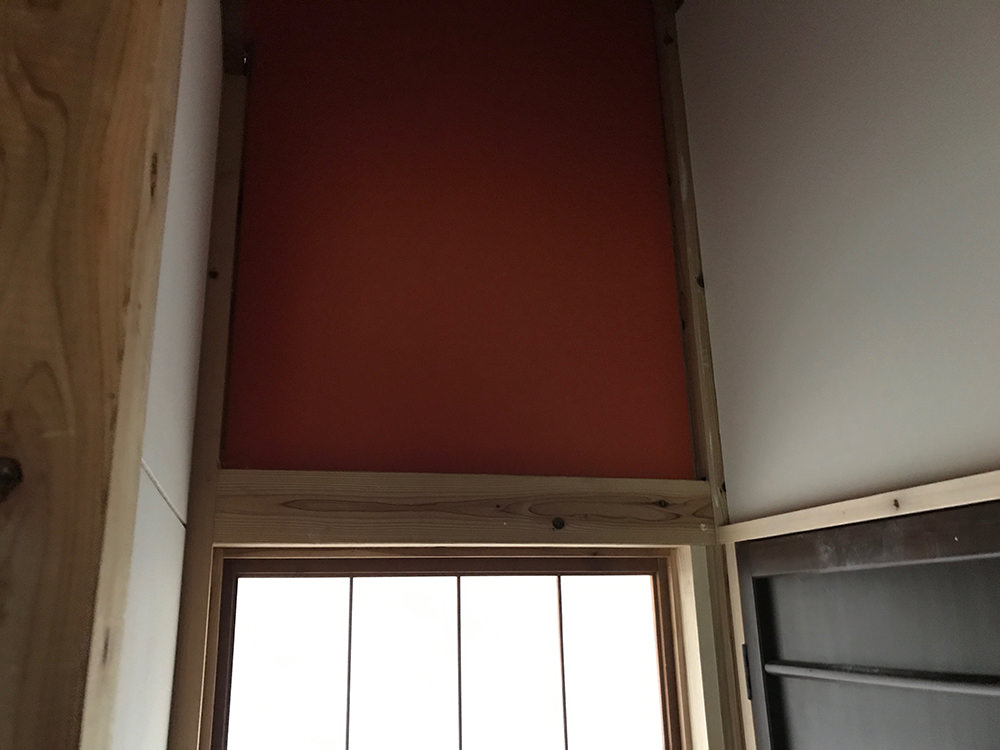 This is door of "Orange"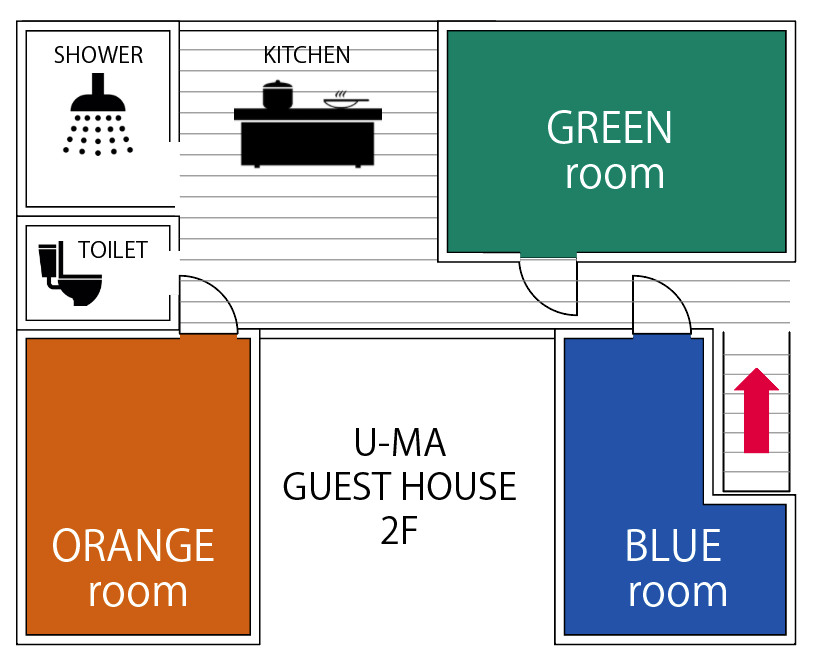 Make sure which color is your room.
You need password for unlock the entrance door. I will let you know what is the number for unlock the key in AirBnB message. Don't forget about password.
Please print out this web page or capture and save pics into your mobile before leaving.
---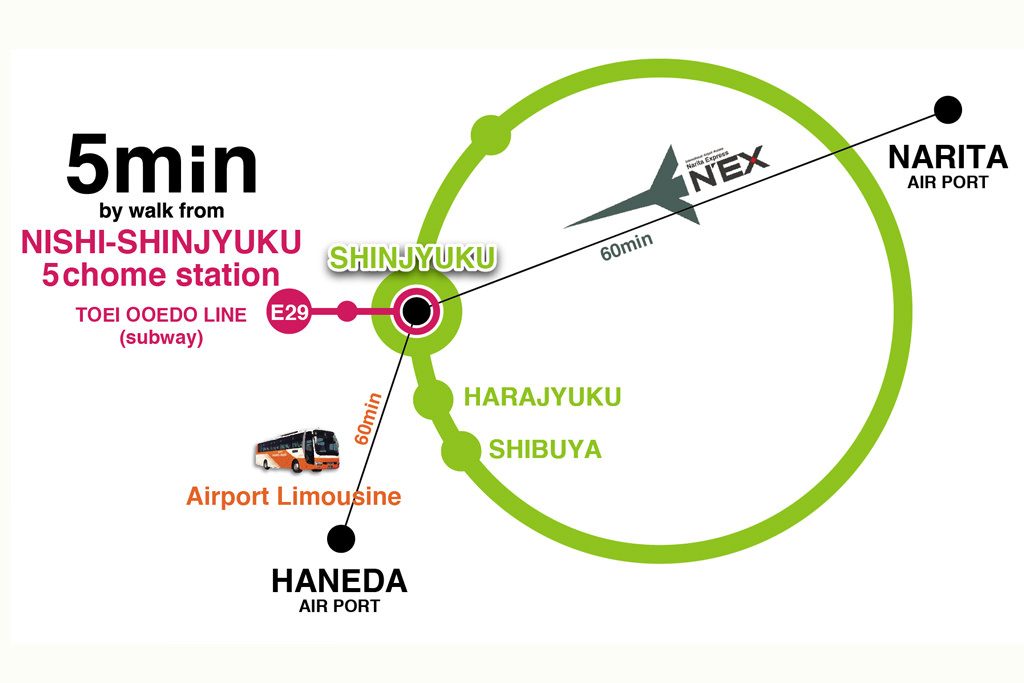 transfer from Narita Airport to Nishi Shinjyuku 5 chome station
TOEI OOEDO line Nishi Shinjyuku 5 chome station is the nearest station from my room.
They have many way to this station (TOEI OOEDO line) from Narita Airport.
I will put easy way.
---
faster & easy
Narita Airport—-( NEX "Narita Express")—>Shinjyuku station(big hub city)
¥3,190 77min
Shinjyuku station—-(TOEI OOEDO line)—>Nishi Shinjuku go chome station
¥220 8min
Total———
¥3,410 85min
---
Cheaper + transfer
Narita Air port —-(KEISEI Skyliner)—>Nishi Nippori station
¥2,465 38min
Nishi Nippori station—-(TOEI ASAKUSA line)—>Shinjyuku station(big hub city)
¥194 21min
Shinjyuku station—-(TOEI OOEDO line)—>Nishi Shinjuku go chome station
¥220 7min
Total———
¥2,897 90min(incl transfer)
---
from Haneda Airport to Nishi Shinjyuku 5 chome station
---
faster & easy
Haneda Airport—-( Limousine bus)—>Shinjyuku station(big hub city)
¥1,200 60min
Shinjyuku station—-(TOEI OOEDO line)—>Nishi Shinjuku go chome station
¥180 5min
Total———
¥1,380
---
Cheaper + transfer
Narita Air port —-(KEIKYU line)—>Daimon station(Toei Asakusa line)
40min
Daimon station—-(TOEI OOEDO line)—>Nishi Shinjyuku 5 chome station
20min
Total———
¥620 60min(incl transfer)